323 Projects Presents THE WAY IT SOUNDS by Sojung Kwon
• Exhibition runs from December 6, 2013 – January 5, 2014.
• Opening December 6 from 5 - 9PM. Come to the opening without going anywhere simply by calling (323) 843-4652.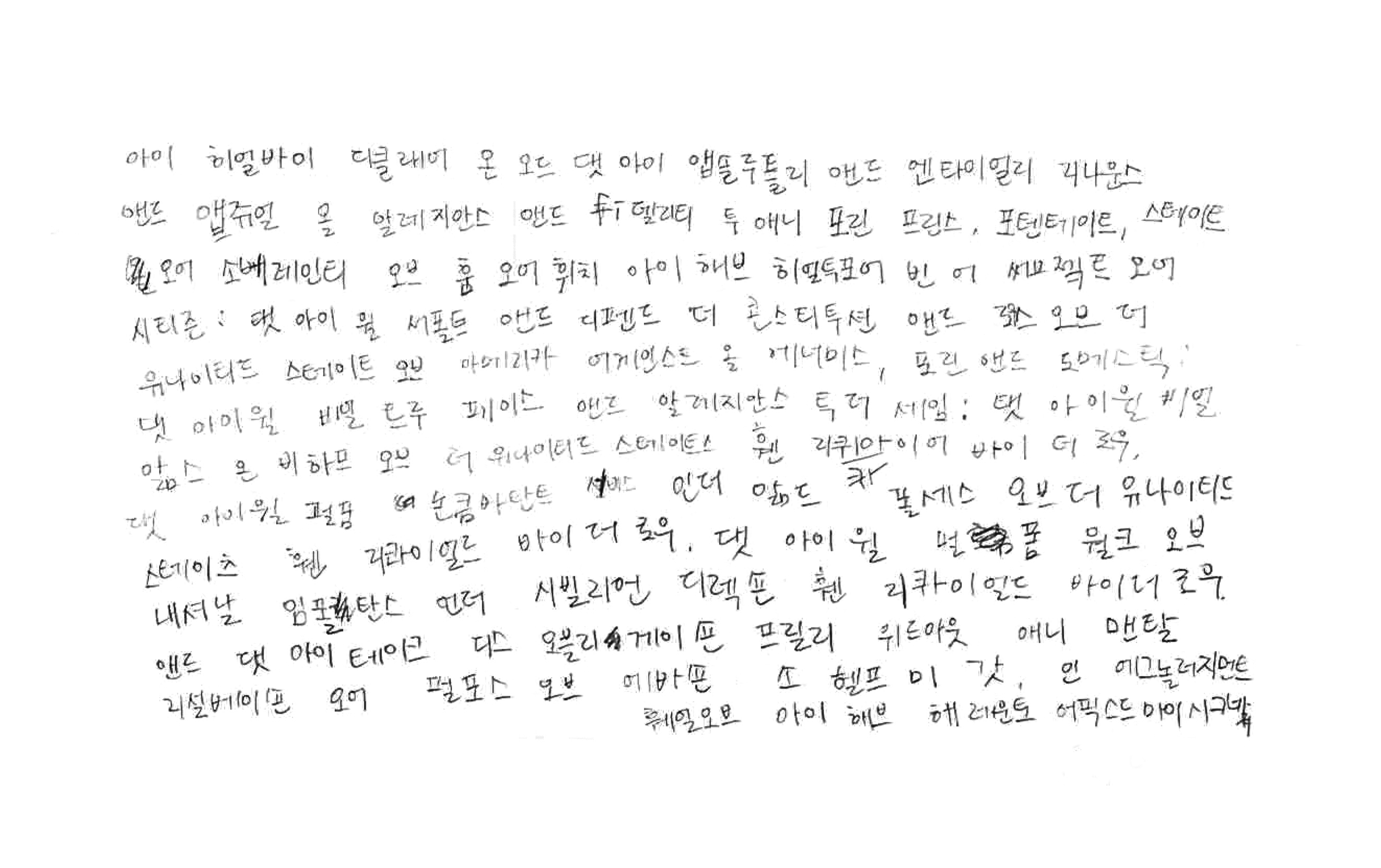 ABOUT THE EXHIBITION

323 Projects is pleased to present THE WAY IT SOUNDS, an exhibition by Sojung Kwon. For this exhibition, Kwon investigates how language and translation inform a host of issues from legal status to national identity. As a Korean national living in the U.S., Kwon has spent many years navigating the American Visa system, successfully recently obtaining a Green Card. THE WAY IT SOUNDS is a meditation on this process, touching on important intersections of language and nationality that impact millions of Americans today.
To make her singular audio work for this show, Kwon phonetically wrote down the oath of citizenship of the United States of America in Korean letters and read it aloud as if it were a public speech. According to the artist, "Writing English sentences the way they sound in Korean letters was how I started to speak English when I began to study English. There are lots of people, not just Koreans, but many international immigrants (who've spent a major amount of time in the US but haven't had a chance to learn the language) who are still using this strategy whenever they need to speak in English."

323 Projects invites you to experience THE WAY IT SOUNDS by calling (323) 843-4652 or (323) TIE-IN-LA. The show is open all day and all night, every day of the week.
ABOUT SOJUNG KWON
As a performance artist, sculptor, multi media artist, and global citizen, Sojung Kwon uses various symbolic props and the playful banality of everyday objects to investigate social developments, social structures, and what happens when people encounter inverted social conventions. Kwon's work explores how the normal becomes strange and the fair becomes unfair. Her work often invites the audience to participate in familiar social activities while her actions occupy spaces of non-communicative engagement. For more information about Kwon's work visit kwonsojung.com.