323 Projects Presents Hot Town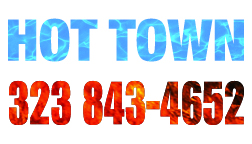 • Exhibition runs from June 3 – July 1, 2011.

• Opening June 3 from 6-9PM. Come to the opening by calling (323) 843-4652.

• 323 Projects is a phone number gallery hosting audio art. Call (323) 843-4652 to experience contemporary art 24 hours a day, 7 days a week.
ABOUT THE EXHIBITION

Taking its title from the immortal Lovin' Spoonful song "Summer In The City" from 1966, this exhibition embodies the complex and contradictory spirit of summer. On one hand, Summer is a time for relaxation, a time when things slow down, people come together for spontaneous parties outdoors, a time for getting away on vacation and forgetting about the "real world". At the same time, this exhibition addresses the cacophonous underbelly of summer, a time when tempers flare, riots break out, hurricanes decimate, and the world melts. Audio tracks will cycle in and out throughout the course of the exhibition, so visitors are encouraged to call back over the duration of the entire show to hear each work.

323 Projects invites you to hear Hot Town by calling (323) 843-4652 or (323) TIE-IN-LA. The show is open all day and all night, every day of the week.

PARTICIPATING ARTISTS

DJdollarBin

Mary Beth Heffernan and Bruno Louchouarn

Tom Brosseau and Kathy MacPherson

Erik Qvale

Please be aware that times listed are Pacific Standard Time.
Listen to some of the audio from this show here:

Chris Oatey

Davey Whitcraft Part 1

Davey Whitcraft Part 2

Davey Whitcraft Part 3

Elana Mann, untitled (from a collaboration with Vera Brunner-Sung, Juliana Snapper, Kristen Smiarows

Jenn Berger "The Orange Bathing Suit"

John Weston "Summer Breeze"

Rob Faucette "Fiesta Time Muthafucka"

Files: