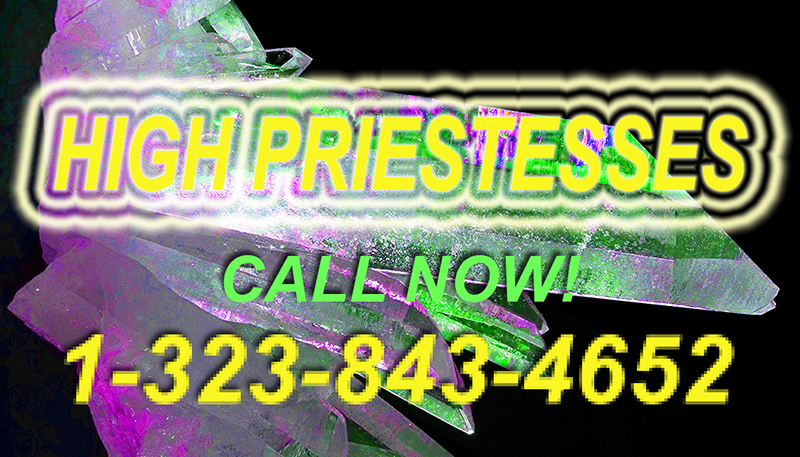 Exhibition runs from February 26 - May 1, 2016


Opening Reception Friday Feb. 26th from 7-10pm at The Cinema Bar 3967 Sepulveda Blvd, Culver City, CA 90230. Cash bar.


323 Projects is a voicemail gallery hosting audio art. Call (323) 843-4652 or (323) TIE-IN-LA to experience contemporary art 24 hours a day, 7 days a week. More info at 323projects.com
ABOUT THE EXHIBITION
This exhibition is an audio journey through the enlightened words of the High Priestesses. Part self-help, part aural healing, the sacred recordings offer therapeutic resonance that may be used on a daily basis to overcome any obstacle and bring life-changing results. This particular zodiac reincarnation brings together teachings from Michelle Andrade, Michelle Chong, Meg Cranston, and Bridget Kane. Callers are encouraged to breathe deep into the belly and freely, without inhibition, release the breath through the mouth and let out sighs of HA! HA! HA! HA! HA! HA!. High Priestesses is organized by Michelle Chong. 323 Projects invites you to experience High Priestesses by calling (323) 843-4652 or (323) TIE-IN-LA. The show is open all day and all night, every day of the week.
ABOUT THE ARTISTS
Michelle Andrade was born in Encino, CA. She received a BFA from the School of the Art Institute of Chicago in 2005 and an MFA from Otis College of Art and Design in 2007. Michelle has exhibited in Toronto, Chicago, Houston, Miami, and throughout Southern California. She currently lives and works in Los Angeles and is represented by Charlie James Gallery.

Michelle Chong lives and works in Los Angeles. Her work engages photography and digital media to explore the relationships between the collective unconscious and personal narrative constructs. Chong has exhibited at Art Laboratory Berlin, Berlin, Koh-i-noor, Copenhagen, The Institute of Jamais Vu, London, Hanover Project, University of Central Lancashire, Little Berlin, Philadelphia, The MexiCali Biennial 2009/10, and the Torrance Art Museum. Chong is a grant recipient of Creative Capacity Fund's NextGen Arts Program. She is the Director of Short House, a curatorial project, and has curated shows at artillerie, Berlin, Shangrila, Joshua Tree, Elephant, Los Angeles, and monk space, Los Angeles. Chong received a BFA from the University of Washington, an MFA from Otis College of Art and Design, and an MA in Clinical Psychology from Antioch University. She is a registered MFT Intern and uses Mindfulness and Narrative therapy.

Meg Cranston received her MFA from California Institute of the Arts and her BA from Kenyon College. She has received awards such as the John Simon Guggenheim Memorial Foundation Fellowship, J. Paul Getty Community Foundation Artist Grant, Architectural Foundation of American Art in Public Places Award, and a COLA Artist Grant and is currently the Chair of Fine Arts at Otis College of Art and Design, Los Angeles. Cranston has been exhibiting internationally since 1988. She was one of four female artists in Paul Schimmel's seminal 1992 exhibition Helter Skelter at the Museum of Contemporary Art, Los Angeles and curated the influential exhibition 100 Artists See God with John Baldessari. Solo exhibitions include the Carnegie Museum of Art, Pittsburgh, Witte de With, Rotterdam, Neuer Aachener Kunstverein, Aachen, Artspace, Auckland and the Hammer Museum, Los Angeles. More recent exhibitions include solo exhibitions at the Kunstverien Heilbronn, Germany in 2015 and LAX><Art, Los Angeles in 2013, as well as, the group exhibitions The Afghan Carpet Project at the Hammer Museum curated by Ali Subtonik, Made in LA 2012, also at the Hammer Museum and Hans Ulrich Olbrist's ongoing Do It project. Among her publications, Cranston is the co-editor of the JPR | Ringier books More Than You Ever Wanted to Know About John Baldessari volumes 1 and 2 with Olbrist. A monograph on her work Hot Pants in a Cold, Cold World also published by JRP | Ringier is available.

Bridget Kane is a multidisciplinary artist whose artwork examines our developing digital landscape, topography, and infrastructure. Using signifiers of Americana and pop culture, she questions the implications of identity construction and performativity within the current conditions of contemporary image production and navigation through social media. Bridget received her BA in Studio Art from Clark University and her MFA in New Genres from Otis College of Art and Design. She is a founding member of Best Practices, a Los Angeles based collective examining broad issues related to the intersections of landscape, architecture, and technology, and their effects on culture. Her work has recently been exhibited at Woodbury University Hollywood Outpost and Eastside International in Los Angeles and Vast Space Projects in Las Vegas.