323 Projects Presents The Patter of Tiny Brains curated by Doug Harvey
• Exhibition runs from April 6 – May 27, 2012.
• Opening April 6 from 6-9PM. Come to the opening without going anywhere simply by calling (323) 843-4652.
• 323 Projects is an exhibition venue that exists as a phone number: (323) 843-4652 visitors call to experience contemporary art 24 hours a day, 7 days a week.
ABOUT THE EXHIBITION
323 Projects is pleased to present The Patter of Tiny Brains, an exhibition curated by Doug Harvey. For this group show sourced from dozens of contributors, Harvey presents a rotating selection of audio generated by children, up to and including adolescents.
Visitors who call into 323 Projects' phone number will hear audio ranging from baby noises to musical performances, and a variety of surprising sound recordings performed by kids. In presenting the work of children, Harvey encourages listeners to bring serious, respectful aesthetic attention to works of performance otherwise disregarded as immature and amateur. This exhibition challenges value systems that deem children's creative output trivial or inconsequential, and instead critically and enthusiastically seeks to reframe the discourse surrounding notions of youth, professionalism, and creative expression.
323 Projects invites you to hear The Patter of Tiny Brains by calling
(323) 843-4652 or (323) TIE-IN-LA
The show is open all day and all night, every day of the week. Visitors are encouraged to call back often to hear audio tracks, as works will rotate throughout the course of the exhibition.

To contribute new recordings to this show please email dghrvy@gmail.com.

ABOUT DOUG HARVEY
Since graduating with an MFA in painting from UCLA in 1994, Doug Harvey has written extensively about the Los Angeles and International art scenes and other aspects of popular culture, primarily as the main art critic for LA WEEKLY for 13 years. His writing has also appeared in Art issues, Art in America, The New York Times, The Nation, Modern Painters, ArtReview, and numerous other publications. He has written museum and gallery catalogue essays for Jim Shaw, Jeffrey Vallance, Tim Hawkinson, Marnie Weber, Lari Pittman, Georganne Deen, Gary Panter, Margaret Keane, Thomas Kinkade, and many others. His curatorial projects have ranged from many traditional gallery exhibitions (including the short-lived Annual LA Weekly Biennials, 2008's Aspects of Mel's Hole: Artists Respond to a Paranormal Land Event Occurring in Radiospace and Arataland! A Mid career Survey of Artworks by Michael Arata at Beacon Arts Building in Spring of 2011) to CD compilations of sound art, programs of found and experimental films, performance events, experimental radio, artist's comic books and zines, and an LA solo gallery exhibit determined by raffle. Last July his project (with Christian Cummings) Chain Letter 2011 included work by 1600 artists in its incarnation at Shoshana Wayne Gallery in LA, shutting down the 10 Freeway exit to Bergamot Station during installation. He has just finished editing 'patacritical Interrogation Techniques Anthology Vol 3 (forthcoming from AC Institute) and practices regularly with F for Ache, the improvisational power trio he formed last year with artists Marnie Weber and Dani Tull. Mr. Harvey also continues to maintain an active art career, exhibiting his visual art (painting-based multimedia) locally and internationally. AiA critic Constance Mallinson said of his October 2010 solo painting show at Jancar Gallery "Harvey's work reeks of rot and decay." His second solo exhibit at Jancar "Never Paint Again" opens concurrently with The Patter of Tiny Brains on April 28th. He lives and works in Los Angeles and maintains a blog at www.dougharvey.blogspot.com and a website at www.dougharvey.la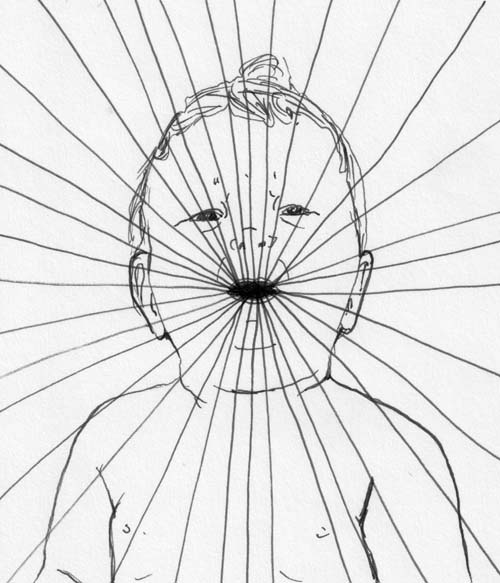 The Patter of Tiny Brains – Contributing Artists

A new interpretation of The Ring Cycle as presented by the LA Opera created and produced by Alejandro Cohen's class of experimental music/sound collage made up of teenage students from continuation schools in the Los Angeles area for The HeArt Project.
Long Ranger & Tonsil are an experimental group founded in 1980 by Andy Sykora and Blake Baxter, both 13 years old. These recordings are from 1980 and 1981, and took place in suburban garages in the San Fernando Valley. The recordings are decidedly poor by any engineering standard, the instrumentations are brutal, and the musicianship untutored and raw. However, in attempting to mimic their favorite commercial rock sound, these teenage practitioners achieved something more: a "musical" tribute to the nonstop, antagonizing white noise of Southern California's lurching transition into the Reagan years, a dystopia where only sheer volume and overwhelming mediocrity succeed in standing out from the hideous background noise of the ever-expanding nothingness would become contemporary American suburbia.
Marlo Irani (10 years old) Space Attack! Electronic composition submitted by Edith Beaucage
Bit ch – field recording at the Edendale Post Office, primary vocalist was approximately 5 years old
Mannlicher Carcano - bub buh buh multi
Susan Chafe & Luke Chafe – Madman "This is a little song I made with my nephew Luke when he was about 8 years old. We recorded all the sounds at his parent's cottage (Luke's Dad hammering in a new kitchen floor, trampoline, water pump, stones on the lake, fire pit) and then I took the recording home and made this piece from them." - Susan Chafe
Dolphin Explosion – Boogie Man (Colette Weber Shaw (age 6) Ariel Mira West (age 7) with Mike Kelley (drums) and Marnie Weber (keyboards), from the Compound Annex release "Boogieman"
amy drezner - broken manipulated frequencies/tempo sung by 9 yr old gilr in talent portion of child beauty pageant lyrics: "Wake up to a sunny day not a cloud up in the sky, then it starts to rain My defenses hit the ground, And they shatter all around. So open and exposed. I found strength in the struggle. Face to face with my trouble. (Chorus) When you're broken in a million little pieces and you're tryin but you cant hold on anymore. Every tear falls down for a reason. Don't you stop believing in your self. When you're broken.
Little girl don't be so blue, I know what you're goin through. Don't let it beat you up. Heaven knows that getting scars only makes you who you are...only makes you who you are. No matter how much your heart is aching, there is beauty in the breaking....yeeeaaaahhh (Chorus)
(Bridge) Better days are gonna find you once again every piece will find its place! (Chorus)"
Angry - Naomi Dunker & Zac Dunker (recorded and edited by Julie Dunker)
David Fenster & friend – Freestyle Rap Session Circa 1989
Goodness Nhlengethwa (South Africa) Untitled "The sound is about my upbringing, as a child I use to be a drum beater for my mom who was a Sangoma. I also grew up at Lutheran Church and now I'm with Jehovah's Witnesses - not yet baptised."
Haron Abbas Mansour, Shiran Davidi and Lee Korenfeld - Greetings & FC Barca Children United is an organization that operates in Israel and Palestine (among other locations) and uses sports as a tool for peace. Submission coordinated by Maria Ana Sampaio Nunes.
Here Comes the Sun - Kevin Braddock, John Knight, Eric Konst (recorded by David Greenberger) from the Arf!Arf! release "The Talent Show" available at The Duplex Planet website www.duplexplanet.com
Lauren Michele Kasmer - Two Boys at Pig Party an audio excerpt from footage taken for the LMK Thoughtful Food Project a multi media art installation with interactive components including the LMK Thoughtful Food Video with Culinary Performances and other stories.
Billy and Mia Kheel – Jazzy Fat Nasty
Kio Griffith – Milk (audio samples of infants drinking milk with added effects)
Lili Bernard and Family - Friday Flu Funk Created April 2, 2012; Description: A real morning in the life of the Bernard Ferguson Family, featuring children, Zion Bernard Ferguson (3 years-old) and her five big brothers, Joshua Bernard Ferguson (7 years-old), Uriel Bernard Ferguson (10 years old), Elias Bernard Ferguson (11 years-old), Isaiah Bernard Ferguson (12 years-old) and Rafael Bernard Ferguson (14 years-old), with the children's parents, Lili Bernard and Franklin Ferguson, in supporting roles. Musical score: "Lick" by Dan Rodriguez (who is the children's Tio Danny, Lili's brother).
James Livingston - Where's Your Sister "This piece is created from an old reel to reel recording (1971) of my sisters and parents reading, singing, and just interacting with each other from about 2.5 years before I was born. I completed the piece in 1999. If a genre classification is needed this would fall into the category of electroacoustic audio collage."
L. Souris Hong-Porretta -- Lulu's Heart 3.5 - 9.5 months (in utero)
Emily Mast – Talyan, Take 2 "This is Talyan, 7 years old, defining "nothing" and explaining what happens to us after we die."
Dave Muller - Peter D'Agostino to Michael Smith (A Subset) "Grace Jane Muller (my daughter at age 4, recorded on 2007). I had extra space on this record I made for the Public Art Fund, so I had her recite from a list of all the artists that had worked with them over their (then) thirty year history."
Nic Waterman - Cartoon Bombshell "Nic has been writing and recording music since the age of 2, though the muse really kicked in at 13, when Nic recorded his legendary "Barbie Doll" ep CDR, and has blossomed through successive engagements with chamber-pop, industrial, and folk-rock idioms. As Waterman approaches his 18th birthday, Pleonasm and Redacted Records have conspired to co-release a compilation of consonant Canadian pre-adult garage-psalms. Available for free download on the Free Music Archive http://freemusicarchive.org/music/Nic_Waterman/My_Majority"
Norabelle Greenberger - Norabelle Greenberger Sings Along with the Green Acres TV Theme Song (1990, courtesy David Greenberger)
Pitywood Trio – Mmm- Egg? Woodpity Pitywood is a one-year-old Los Angeles-based multi-media artist and musician. This recording compiles several of his improvisations into a single performance.
Sim Sadler with the voice of Lexi Renée Sadler - Babble Becoming "When my infant daughter's expressive babble was just on the cusp of language, I recorded her voice, and put it away for posterity. A couple of years later when I saw your "Patter of Tiny Brains" project, I was inspired to edit it in a way that tries to capture that fleeting moment--now long gone--where sense and non-sense were in eloquent balance."
Zoe Scott - Girls Rule Boys Drool (submitted by Dustin Scott)
Jason Strickler - *Unsuccessful Exorcism *
Stephanie Taylor - Rosángela 2011, commissioned by LACMA; vocals: Milena Muzquiz, Jose Luis Blondet, Charles White Elementary Chorus
The Fitzbergs - As I Walk (original, recorded 1996, courtesy David Greenberger)
Luca Veca – Yay Daddy! (courtesy Mark Dean Veca)
Background - Alien Abduction A free download from the original mp3.com via Lukas on wfmu's Beware of the Blog (http://blog.wfmu.org/freeform/). "Background has been playing together for many years...not playing music but actual playing because we are all cousins and like playing with each other."
Pea Hix, from Lucas & Friends from the Vinyl Communications release "Lucas & Friends Discover a World of Sound"

Kids from Widney High

THUUNDERBOY! (1971 turntable manipulations by Tony Conrad's 2-year old son Ted)