323 Projects Presents In-Phone-Tainment with Amy Radio sponsored by Girl Friend Beer
• Exhibition runs from August 3 – August 31, 2012.
• Opening August 3 from 6-9PM. Come to the opening without going anywhere simply by calling (323) 843-4652.
• 323 Projects is an exhibition venue that exists as a phone number: (323) 843-4652 visitors call to experience contemporary art 24 hours a day, 7 days a week.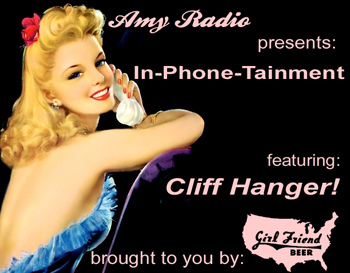 ABOUT THE EXHIBITION
323 Projects is pleased to present, In-Phone-Tainment with Amy Radio sponsored by Girl Friend Beer. This exhibition explores how entertainment, news, advertising, and music intersect via the telephone. Using layered sounds to create a quasi-informational form of In-Phone-Tainment, this exhibition will play off the structure of services like Movie Phone, Phone Trees, and Call for Time to question how we seek, receive and process information pertaining to leisure and consumption. Each day callers to 323 Projects will hear an onslaught of quick snippets of info, songs, sponsored ads, and a daily drama called Cliff Hanger! Each recording will in essence run about the same amount of time as a commercial pop song, but will contain bits and pieces of factual and made up 'info.' In-Phone-Tainment references the omnipresence of mobile phones as devices used to obtain a mixture of entertainment and valuable information, and seeks to blur the lines between the two.
323 Projects invites you to hear In-Phone-Tainment with Amy Radio sponsored by Girl Friend Beer by calling
(323) 843-4652 or (323) TIE-IN-LA
The show is open all day and all night, every day of the week.
ABOUT AMY RADIO

Amy Radio is the creation of L.A. based artist and musician Rob Faucette. Rob heard the phrase "Amy Radio" from a guy in northern Vermont who used it as slang for A.M. radio. The phrase stuck as a way to describe the feeling of wonderment one has when driving late at night, tuning the dial, and discovering obscure songs and sounds on the radio. In 2006-2008, Faucette wrote, produced, and recorded a series of radio shows for a radio station in Vienna, Austria under the title "The Amy Radio Show," which dealt with such American themes as the highway, the wild west, space travel, and locomotives. The Amy Radio recordings featured in this 323 Projects exhibition are an extension of this investigation. Visit Amy Radio at amyradio.tumblr.com.
ABOUT GIRL FRIEND BEER

This exhibition is brought to you by Girl Friend Beer. Girl Friend Beer strives to be a beer company with everything but the beer itself. Because they don't have a brewery equipped with forklifts, bottling machines, stacks of boxes, mashers, hoppers, boilers, water bills, and bottle caps, they have very little overhead. There is no beer, only Girl Friend Beer. Buy a coozie, slap a sticker on a can and you've got a Girl Friend Beer.