Drift/Net by Yann Novak and You
October 12 - November 15, 2010 Opening October 16 from 6-8PM. Come to the opening by calling (323) 843-4652.

Hear the final audio compiled by Yann Novak here:

323 Projects is pleased to present Drift/Net by Yann Novak & You, an experiment in collaboration between artist and audience. For this exhibition the audience calls 323 Projects' dedicated phone number, (323) 843-4652, and then uses their phone as a recording device to leave a message. These recorded messages will then be incorporated into a sound work compiled by Yann Novak which will debut in Spring of 2011.

The intent of this project is to leave the content and narrative of the final work open ended, so that the scope and range of recordings generated by the audience will determine the sound, length, content and narrative of the final composition. To hear when the final composition will be available please visit the 323 Projects' website at 323projects.com
323 Projects invites you to experience Drift/Net by Yann Novak & You by calling (323) 843-4652 or (323) TIE-IN-LA. The show is open all day and all night, every day of the week.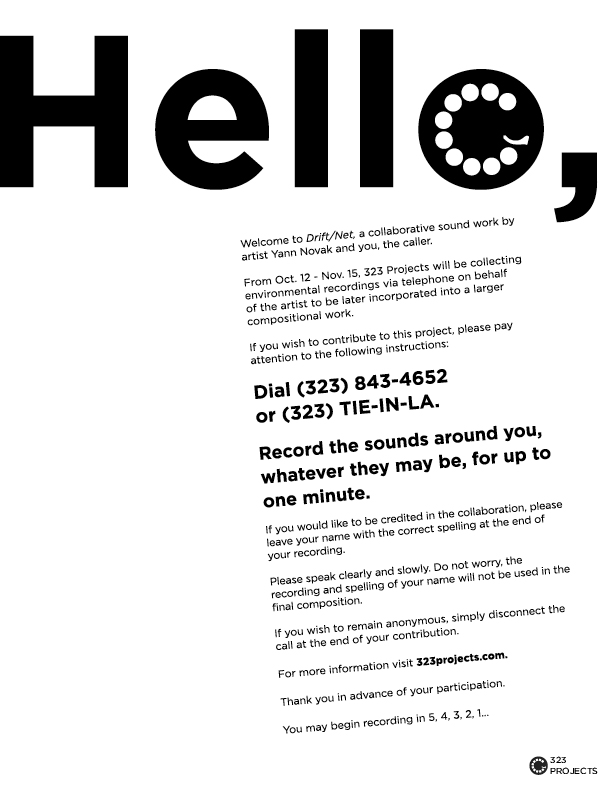 ABOUT YANN NOVAK Yann Novak (b. 1979 Madison, WI) is a sound, video and installation artist living and working in Los Angeles. His work utilizes different forms of digital documentation as a point of departure. Through the digital manipulation of these sound and image files, his works serve as a translation from documents of personal experiences into an open ended autobiographical narrative. By choosing subject matter that is also relatable to the audience, Novak's work creates a hybrid state, balancing between his own personal history and that of the audience.
His recorded works have been published by Dragon's Eye Recordings (US), The Henry Art Gallery (US), Infrequency Editions (CA), Koyuki (IT), LINE (US), Mandorla (MX), smlEditions (US), White_Line Editions (UK) and others.
Novak's installations and performances have been presented internationally at prestigious events and venues including American Academy in Rome (Rome, Italy), Blim (Vancouver, BC), Decibel Festival (WA), Ersta Konsthall (Stokholm, Sweden), Fiske Planetarium (CO), Henry Art Gallery (WA), Hit Art Space (Gothenburg, Sweden), Kasini House (VT), Las Cienegas Project (CA), Lawrimore Project (WA), Los Angeles Contemporary Exhibitions (CA), Mutek Festival (Montreal, QB), San Francisco Museum of Modern Art (CA), Seattle Lesbian and Gay Film Festival (WA), Soundfjord (London, UK), Soundwalk (CA), Suyama Space (WA), TBA Festival (OR), Torrance Art Museum (CA), Western Bridge (WA) and others.
As a result of these endeavors, Novak had been invited to numerous Residencies including the Environmental Aesthetics Residency (WA), the Espy Foundation Residency (WA), the Jental Artist Residency (WY) and the Kasini House Studio A Residency (VT).
In 2005, Novak re-launched his father's Dragon's Eye Recordings imprint with a new focus on limited edition releases by emerging and mid-carrier sound artists, composers and producers. Since its re-launch, Dragon's Eye Recordings has published over 25 releases and has received critical acclaim. In 2009, Infrequency Editions, curated by Jamie Drouin, was integrated into Dragon's Eye's operations and distribution.
In recent years Novak has collaborated through select installation, performance and recorded work with Gretchen Bennett, the Crispin Spaeth Dance Group, Robert Crouch, Jamie Drouin, Will Long, Marc Manning, Alex Schweder and others.
For more information about Yann Novak visit www.yannnovak.com
Files: