323 Projects Presents After The Tone by John Burtle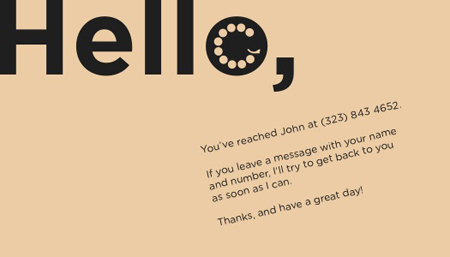 Hi! You've reached John at 323 843 4652.

If you leave a message with your name and number, I'll try to get back to you as soon as I can.

Thanks, and have a great day!
• Exhibition runs from Dec. 6, 2012 – Jan. 12, 2013.
• Opening Friday December 7 from 6-9PM. Come to the opening by calling (323) 843-4652.

• 323 Projects is an exhibition venue that exists as a phone number: (323) 843-4652 visitors call to experience contemporary art 24 hours a day, 7 days a week.
ABOUT John Burtle

John Burtle incorporates a wide range of strategies individually and collaboratively to explore fundamental aspects of the physical and social human experience. For the past 7 years he collaborated with John Barlog to construct workshops, interventions, and public actions that catalyze awareness of one's influence on their environment and community. Though these projects often manifest in public spaces–malls, parks, streets–they have exhibited internationally at Estacion Tijuana, MX, and .HBC Berlin, DE, and locally at Sea & Space Explorations, LACE , Project Room G3 as well as several other artist run spaces and non profits. Burtle is also one of the founders of the Eternal Telethon, a webcast fundraiser striving to purchase land for an artist retirement village. He is committed to a annual project (till their deaths) with Stine Marie Jackobsen. For the past year John has been hosting a weekly radio show with Guan Rong on KChung Radio called Nooooooooooooooooooooooooooooo.